3 Criteria for Identifying Tier II & Tier III Students for RTI Interventions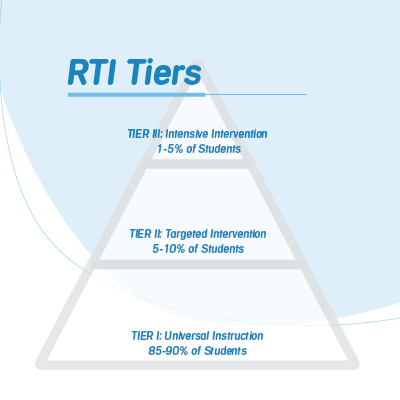 The RTI model helps educators know how to organize interventions, but it can be difficult to decide which students should be placed in each of the three tiers.
Author, Dr. Jack Fletcher, reports that "The formal incorporation of Response-to-Intervention (RTI) models in the 2004 reauthorization of the Individuals with Disabilities in Education Act (IDEA 2004; USDOE, 2004) signals a major change in approaches that schools may use to identify students as eligible for special education in the learning disability (LD) category. School-based interdisciplinary teams must contend with these changes to identify children with LD, determine their eligibility for special education, and most importantly, develop effective intervention approaches."
The historical definition of learning disabilities was not very clear, because the definition states that a learning disability could occur when there is "a severe discrepancy between achievement and intellectual ability in one or more areas." So the IQ discrepancy model became the way to identify learning disabilities despite contrary evidence and research that the discrepancy model lacked validity and reliability.
Researchers are now suggesting three primary criteria to be used to identify which students have learning disabilities, such as dyslexia, and are in need of Tier II and Tier III interventions:
Student demonstrates low achievement.
There is an insufficient response to effective, research-based reading interventions. A systematic plan for assessing change in performance must be established prior to intervention.
Exclusion factors such as mental retardation, sensory deficits, serious emotional disturbance, language minority children (where lack of proficiency in English accounts for measured achievement deficits
Identifying children with LD requires the presence of low achievement and inadequate response to instruction as inclusionary criteria. This is true whether the overarching identification model stems from an RTI process or from some type of psychometric model.
Originally, many educators felt like RTI was a special education initiative. However, this perspective has changed and educators now indicate that implementing RTI is a unified effort in their district.
View this webinar to learn more about successfully implementing an RTI program into your school or district:
"The Essential Components of a Successful RTI Implementation," by Dr. John E. McCook ›
Source: Beth DuBose, June 28, 2010
---
Learn how Reading Horizons reading curriculum is used as a research-based reading program in all three RTI tiers!
---