How to Help Students With Dyslexia—Insights from a Mother and Her Dyslexic Son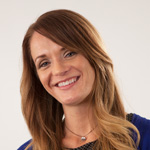 I often get asked why I do what I do for work and why I travel. When I'm sitting in another airport with a level of exhaustion difficult to describe due to the juggling act of this and kids and a home, I could question this myself if it wasn't for a profound experience with my son, Tyler, about 7 years ago.
I do believe in what I do and I am deeply passionate about this program. But this moment is what gets me through:
I was new to the job and travel had picked up some and I had my first back-to-back trip. With only a couple of days home in between. I was repacking my suitcase and quietly crying (leaving my kids is never easy) and Tyler walked in my room.
Tyler: So mom, where ya going this time?
Me: Florida.
Tyler: Now mom, you're going to help teachers so they can help kids like me, right?
Me: Yes.
Then Tyler knelt down by me with his hand on my shoulder and looked me in the eyes and said, "Then it's good you're going, mom."
I do this to share my son's story. I do this to help other teachers become aware as to what is actually happening with their students so they don't function under the misperception that the student is lazy or not smart. I do this to help students understand what is happening and why they are struggling. I do this to dispel the untruth that difficulty with reading is tied to intelligence and shine light on the actual truth. The truth is all of us our wired differently in our brains. Some of us access the automatic language centers of the brain, and some of us do not. Dr. Sally Shaywitz brought this to light in her book, Overcoming Dyslexia: " In the congenital form there is a glitch in the wiring when it is first laid down during embryonic development, and this miswiring is confined to a specific neural system (used for reading)" (Shaywitz, 2005). So this issue is specific to the language system and is NOT tied to intelligence. Sharing this truth with students is paramount and shifts everything for them.
This awareness combined with proper instruction helps students with dyslexia feel safer and this opens their ability to learn. When a student stops feeling safe, they stop learning. Period. This can happen for many reasons, but trying to learn in an environment where teachers do not understand what is happening or how to help has to be the biggest culprit. I want to change that.
Tyler's Experience with Dyslexia:
As I was prepping for a presentation on dyslexia, I thought about my intent for the attendees and what I wanted them to experience. I wanted them to hear the truth not just from me, but from my son. Even as much as I understand, I still do not know exactly what it is like for him. We were able to get him on camera sharing his experiences and speaking his truth. You can't watch him and not see the importance of what we do. He is why I do this. Here is his story:
Pinterest Quote:

---
Learn how Reading Horizons uses structured literacy instruction to help students with dyslexia learn to read with both our elementary reading program and our reading intervention curriculum.
---
Resource:
Shaywitz, S. (2005). Overcoming Dyslexia. New York: Vintage Books. pp. 17.
---
Share Your Story:
Why are you passionate about teaching? Post your thoughts under the comments section. We'd love to hear from you! Who knows, your thoughts might help another teacher in need.
---
Dyslexia Resources